Deliberate pixelation
Edit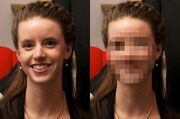 In some cases, the resolution of an image or a portion of an image is lowered to introduce pixelation deliberately. This effect is commonly used on television news shows to obscure a person's face or to censor nudity or vulgar gestures, and is also used for artistic effect. This effect is called pixelization. Making pixels easily visible is also a main feature in pixel art which is where the graphics are made in low resolutions for effect.
Ad blocker interference detected!
Wikia is a free-to-use site that makes money from advertising. We have a modified experience for viewers using ad blockers

Wikia is not accessible if you've made further modifications. Remove the custom ad blocker rule(s) and the page will load as expected.